Admission for the Tamilnadu MBBS 2017 batch is conducted through NEET 2017, is an all India level eligibility test for MBBS/BDS admission. It was AIPMT declares the admission till NEET replaces it from 2016 onwards. National Eligibility cum Entrance Test is being conducted by the central board of secondary education. This is an offline mode of examination based on the 12 STD syllabus covering the subjects chemistry, physics, biology, mathematics. No matter concerns about the centre of examination, so, all over India, wherever needed, exams can be taken by the applicant.
The marks or the score obtained in NEET will be taken as cut off marks for counseling and no other exams conducted by the respective states are eligible as cut off marks. 15% of all India quota are allotted initially, whereas the remaining 85% will be fulfilled by conducting counseling by the respective states in India.
The marks obtained in NEET is primary measure that decides the seat for MBBS/BDS with respect to the 85% quota of the respective states, armed force medical university(AFMU), Aligarh Muslim university( AMU) or BHU.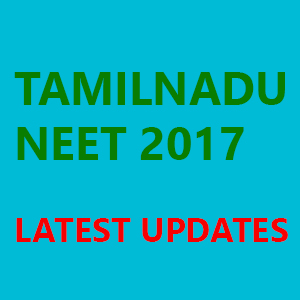 Based on the marks obtained seat in government college/university, private college, deemed college or dental college will be allotted. Self financing, merit list and other criteria are also declared based on this.
MBBS is a 4 and half years course with 1 year all India internship
BDS is a 4 years course with 1 year internship required.
Tamilnadu NEET 2017 notification: Not announced
Advertisement Download for details: Not declared
Tamilnadu MBBS admission 2017:
National Eligibility cum Entrance Test 2017 would likely to be conducted in the month of May 2017 for which the call upon has occurred in January 2017. Applicants can apply online for the exam within 30 days from the date of announcement. Admit card will also be received online by April 2017 and finally, the result for the NEET is expected to be displayed in the 1st week of June 2017.
Mode of examination:
This is an offline mode of examination and is conducted as objective type questions that are answered with single shade in the OMR sheet. 3 hours is allotted to answer 180 questions and negative marks for wrong answers are deducted. The questions will be based on the higher secondary level.  Answer key for the respective exam will be displayed by the exam conducting body.