Tamilnadu school education department has issued Amma guide for 10th and 12th standard public exam students, public exams are considered as one of the important exams in every student's life. Hence tn govt also taking various steps for helping students to improve school education, In this action they have released Amma guide 2018 for 10th / 12th std students. They also make it downloadable from online so incase if you are not able to get it through schools and shops you can download on your own.
The soft copy of amma guide for Tamil, English, maths, physics, chemist, botany, zoology, Geography, History, Economics, Commerce, Accountancy etc are available online here for both English and tamil medium if you are in need of it you can download from below.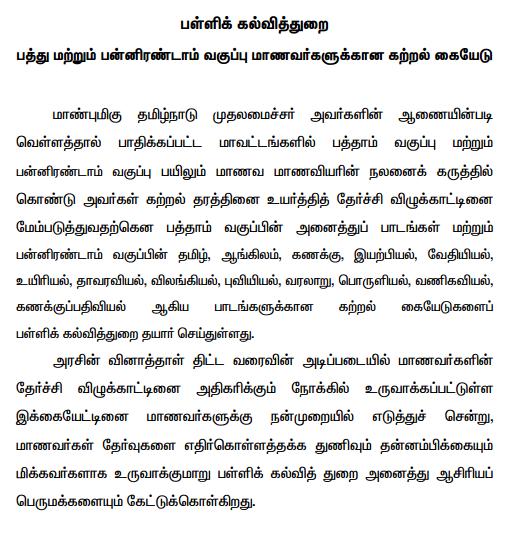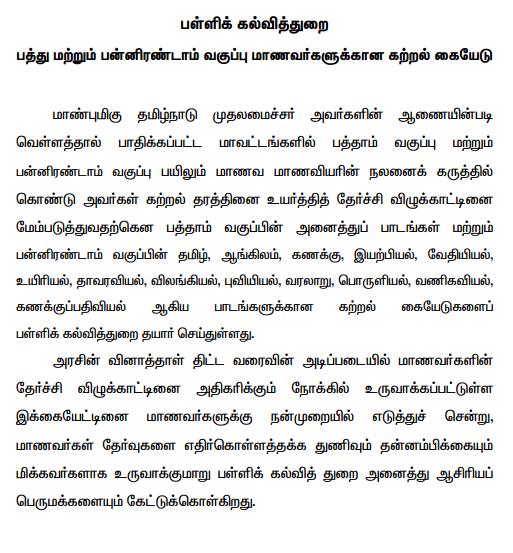 Main aim of introducing this guide is to assist the slow learners for getting pass mark easily, to improve the marks scored by candidates who are getting just pass and improve the fast learners for getting full marks.
Recommended: Tamilnadu public exam time table 2018 – 10th / 12th for march and april exams
Hence it can improve the pass percentage of students in public exams, so TNSCERT asks teachers to issue this to all their students and give good support for improving the state pass percentage.
Steps for downloading the guides
First click the Amma guide 2018 download link given above for your class, then all subjects for your class on your screen.
You find two sets of tables in which first one is for tamil medium and second is for the English medium.
If you want to download particularly some subjects which looks difficult for you then click only over it and save the pdf file.
Incase if you want all guides then download all the documents one by one and take the print out of it and make booklet for it.
TNSCERT is the board under tamilnadu government formed for framing syllabus for school students according to the society needs. It offers various training programs for teachers for teaching the subjects more efficiently to students. The guide given above is issued by this board the page is available at tnscert official website.