In our earlier post we mentioned in detail about the "internal exam time table 2016 " this post is all about how to know your internal assessment and attendance marks. They are being updated regularly online by the institutions in the official anna university website which is called coe1.annauniv.edu. By logging into the link students can find their marks, if you are strucking with how to check then you don't need to worry because we are giving step by step  details about anna university internal marks 2016   in this page.
It is only available in above link so if you check any other pages you cant able to check, once entered into the anna university page you are requested to log in to the website by providing your register number and date of birth, you also required to enter answer of simple mathetic question inorder to prove that it is not automated access.
Anna university student login procedure
After entering all the details one by one click on the login and wait for few seconds, immediately after you get logged in you see student profile first there your full name, register number, institution and branch details will be shown to you.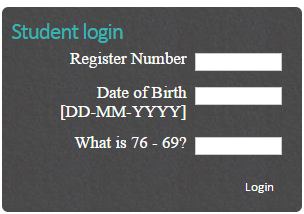 tabs are shown on your screen with names like profile, exam schedule, results, elective papers name you have chosen in this semester and tabs for checking attendance and assessment mark details, all you need to do is you should click on right tab for which you requires details.

If you try to log in with same number frequently then it may show you maximum limit exceeded errors, incase if you see this then use other internet browsers or clear the internet cache of the browser which you are currently using.
Anna university attendance closing date
Attendance last date will be displayed for the students by the officials during the notification of nov dec / april may exams. It will be available in the www.annauniv.edu, till that date attendance of students will be registered. We will update it below after the official news.
For 1st semester B.E students – In december
For 3rd, 5th, 7th semester B.E students – In november
Usually attendance will close some weeks before final semester exams and after that institutions will conduct model tests and also students get study leave during the session.
Click here for checking anna university internal exam marks and results 2016 and also the attendance.
Instructions for the students
Track your attendance regularly with this page and don't keep it in margin because incase if you are required to take leave for any important thing or medical problem then it lower your attendance below the minimum required percentage. If your attendance is below 75% it will arise lot of problems and you may not allowed for to write final exams
Dont take leave during internal exams