Monsoon rainfall has been severed in tamilnadu, hence the state is facing heavy rainfall in most places holiday is declared for the schools and college in most districts in tamilnadu on 16/11/2015. As it is the semester exam time students are facing difficulties to reach colleges during rainfall hence most universities changed the exam schedules to favor the students.
For Anna university students
All the semester exams which are planned to conduct on November 16, 17, 18 for anna university departments and affiliated colleges were postponed and these exams will be conducted later and rescheduled dates will be announced at anna university website soon.
This news has been confirmed by the officials and details about this announcement is also updated in the official website annauniv.edu
University has requested the students to check www.annauniv.edu for checking the nov / dec exam reschedules because it is only the authorized website in which announcements are updated by the officials.
Click here to all exam schedule.
click here for anna university result updates nov dec 2015
We have updated the screen shot of the announcement here which is found in the official webpage, which can be identified right from the index page, you can find the anna university rescheduled time table nov/dec 2015 very soon in the official website under the news tab.
All Rescheduled exam dates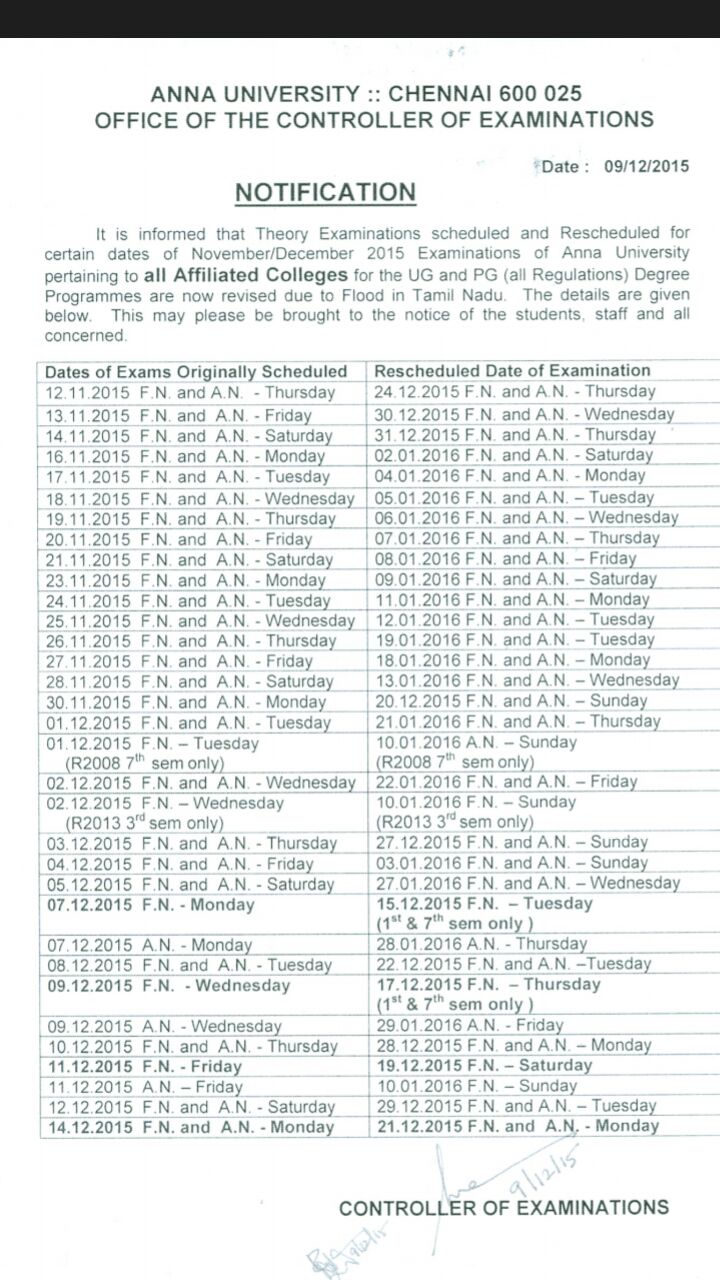 December 2015 updates
November 2015 updates


For Affiliated colleges:
Exams which are schedules on 12/11/2015, 13/11/2015 and 14/11/2015 were postponed to 21/12/2015, 22/12/2015 and 24/12/2015 respectively.

Rescheduled dates of 16/12/2015 to 21/12/2015 exams will be announced by COE, Anna University in official website.
Students can use this time span for preparing the subjects very well, also while checking rescheduled Anna university time table don't forget to confirm it in the authorized official website. Because in case any errors occurs in private links it will make you to face unwanted issues.
Incase if you have doubts related this changes kindly contact your college where you are pursuing the course they will assist you.
For Madras university  
All Exams scheduled on November 16 were cancelled and new dates will be declared soon. Keep checking our site we will post the new date when it is announced by the UNOM for regular and distance education students.
Click here to know UNOM UG PG nov dec exam time table.