Anna university has recently conducted the exams for their students in nov dec months , all students are waiting eagerly to know their 1st, 3rd, 5th and 7th sem exams and also some percentage of them were also written the arrear exams all subject and course marks of students are awaiting for declaration by the university, Courses offered by the university includes B.E, B.tech, MBA, MCA, M.E, M.tech etc. In this post students can get details of the Anna university results Nov Dec 2018 updates along with the exact date of declaration once the complete declaration schedules are revealed online.
For the valuation Process University will take around 1 month just after the completion of exams and the results will be announced one by one as per the courses list. The Anna University Results 2019 is expected in the February first week as for the last year they have declared it in the same period.
Exam Results Declaration summary
Board Name: Anna University
Location : Tamilnadu
Courses: Engineering, Technology , MBA, MCA
Results for the semesters: 1st, 3rd, 5th and 7th / arrear exam marks
Anna University holds the responsibility for maintaining engineering courses offering colleges in tamilnadu, the process of university including inspecting colleges, issuing syllabuses, conducting exams, issuing degrees etc. Unless it is a autonomous college or deemed university the college will come under the full control of the Anna University.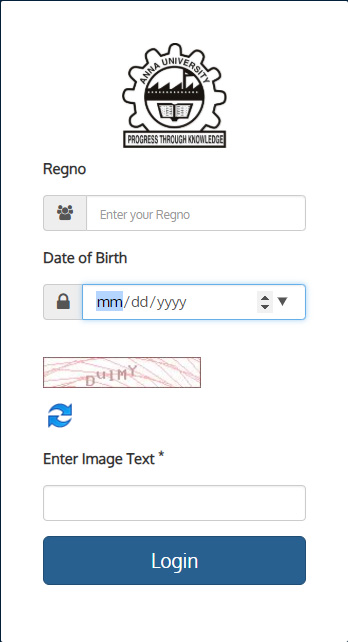 About Revaluation Dates
Once after the results are announced anna university will give a separate notification about the revaluation in which they will give details about the deadlines for applying revaluation and procedures for applying revaluation through colleges. So incase if the published marks didn't satisfied you then you can proceed to apply for the revaluation by filling the form available in your college and paying the appropriate fees at the cash counter available in your college.
In order to check anna university results nov dec 2018 and jan 2019 you have to log on official website annauniv.edu, there follow the below procedure
From the home page select Affiliated colleges results in the news Tab, there you will find the notifications scrolling from top to bottom
Watch all the news that are scrolling and check if there is any updates for the nov dec exam results if any shown just click on it.
Now provide your register number, date of birth and the text in image finally click on submit, just in few seconds marks will be displayed on your screen.