Annamalai university has implemented online exam form filling and fees payment features which makes students happy as the board reduced the work tension of the process. With just few minutes they can complete it with the help of their home computer or with browsing center computers.
Annamalai university Exam fees payment is mandatory to take the semester which can be paid either by online method or offline method. We have given the summary of the process so that if you are trying to pay online for the first time then it will be very useful for you.
Deadline dates for this process is given below so prepare the registering plans within this schedule, try to apply some days or week earlier before last dates to avoid server crashes.
Last date without fine: UPDATED SOON
Last date with fine Rs. 500/- :  updated soon
Last date with fine Rs. 750/- at Annamalai Nagar Centre only: updated soon
If you miss to pay in the first two choices then you are required to visit annamalai university campus for paying the exam fees along with 750rs fine amount. Almost each every students are trying to pay it within fine free dates but who forgot the dates and who are not able to pay within it due to any reasons are going for second and the third options.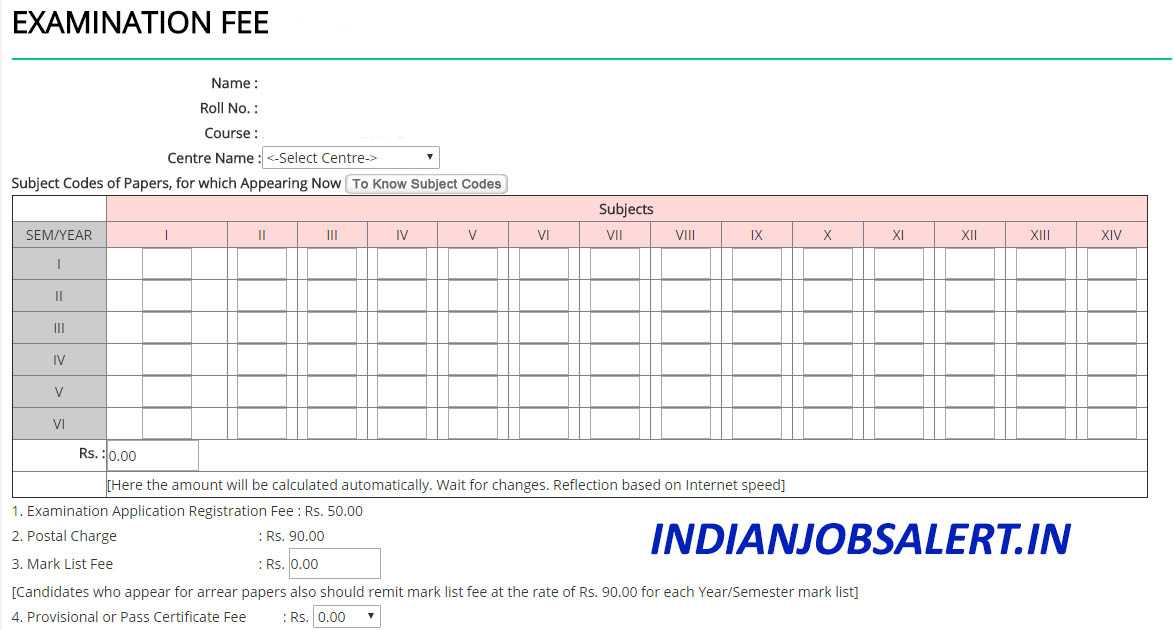 Annamalai university Exam fees online payment 2018 portal – annamalaiuniversity.ac.in/exam/
Exam Applications are only accepted in the exam portal of the university we have given the direct link of it below once you landed in that page you follow these procedures.
Enter the roll number given by the board and hit submit (In the login page itself you are able to find the last dates)
Once after the successful login you can see "EXAMINATION FEE / EXAM ONLINE APPLICATION – MAY 2018"
Choose the center you want to appear and Enter subject code for the SEM / YEAR you wish to appear.
After you enter the subject codes (If you don't know the code there is a link for to give details which is available right above the input column) the exam fees will be calculated automatically from server end so you don't need to add manually.
Finally choose the payment gateway and complete the Annamalai university fees payment / exam application 2018 online and complete the remaining process as displayed by the instructions shown in the official website.
Exam center fees is added along with automatically if you select tamilnadu for appearing semester then amount 170rs will be added and incase if you choose nearby states like kerala the amount will be 270rs and remaining states it will be 370 rs, for who wish to take from locations Andaman , assam etc fees will be 660rs.
Click here for Annamalai university online exam application 2018