All the applicants who want to apply for TNPSC recruitments are first need to complete one time registration, In which they have to give personal, communication details and their qualification which will be saved to official server, hence you don't need to enter it every time you apply for PSC jobs, It is just a onetime procedure and from next time onwards just provide id and password website will automatically fetch all your details and you just required to enter any additional details that are required for job and to pay the fees. Let's see the complete procedure regarding it in the following.
There is a special page in official website for who want to apply for TNPSC OTR registration and login, its link is given after clicking on it you will see following things.

Choose new user option there and now you will see a blank page which asks your personal and communication details, fill one by one carefully without leaving anything, all the fields that are marked with star symbol are considered as important and you don't have choice to leave it, if you left blank then you will get error messages while submitting the form.
Just after this step primary registration gets over and you will get an activation mail, then enter login page for activating with OTP. Now it is the time to enter remaining details in the form.

Certificate to have while registering
After that you have to give details about community, education and so on for which following documents are important.
Community certificate – Details about communal category, sub caste, issuing authority, date of issue, taluk, certificate number are need to be entered online.
SSLC / HSC / Diploma / UG/PG / PHd certificate – Entering details about SSLC is mandatory and others are optional, however you can add all degrees as per your qualification. For educational qualifications you have to give details about Month and year of passing, studied language, board or university name and certificate number.
Documents to upload
Documents that are required to upload are photo of candidate and his signature in given format, photograph in 4.5 * 3.5 cm between 20 to 50kb file size and signature within 10 to 20 kb.
Users can use Microsoft paint or Adobe Photoshop for editing the pictures.
Fees pay procedure:
This is the final step of procedure and also mandatory one, here you can select net banking / card payment methods for paying.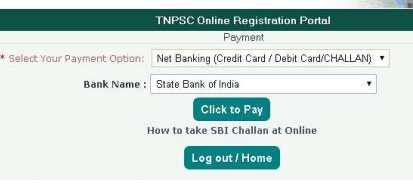 TNPSC one time registration fees: 50rs
Once after submitting the fees new page will be generated which provides option for taking TNPSC one time registration 2017 slip, that's it the complete process and your details will be saved in TNPSC online server.
Click here for login / tnpsc one time registration new user account.