CBSE results has been declared for the students who attended 12th standard exams all over India under this board on 21/05/2016. As it is a central board lot of students are studying under it, as like all other educational boards it also gives an immediate chance for those who failed in March month exams for which CBSE compartment date sheet 2016 will be issued soon.
Some percentage of students who are confident that they wrote the exam well but not received the expected percentages applied for rechecking.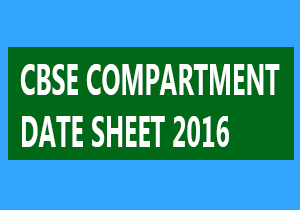 Lot of students failed in single subject as a result of this they are disqualified for joining higher studies, but by attending compartment exam well and getting pass mark they can join their interested courses this year itself. Incase if you are in need of the form to apply for compartment exam it will be available only in cbse authorized website else you can contact your school.
Dates to apply: june 2016 / Available soon

Last Date to apply with late fees: jun 2016 / Available soon.
At first students are required to complete an application form in order to express their interest in taking the exam by paying required fees, fees varies for foreign and indian national students and scheme they are based to apply, they will get admit card as like main exam in which details about subject and candidates details will be present.
CBSE 12th compartment date sheet 2016 download: Not available (Dates will be scheduled in july and August months)
Dates issued by the board will be common for all regions, hence it is not matter which state you belongs to.
Incase if students failed to prove in compartment exam they are capable to take the next exam only during next year april month also they will lose 1 year, so if you are failed in any subject then put your maximum effort in the coming exam for getting pass. Don't lose your hope you can easily improve your grade by hard work, if you get pass in this exam your higher education will not be disturbed in any way but if you missed this great opportunity then you can't able to join any UG course this year.
When will be the results declared?
Just after the completion of exams CBSE will take rapid actions for evaluating the answer sheet quick and declaring its marks, usually it will be declared in August 1st or 2nd week.