Now a days it is very easy for everyone to apply community certificate online, we can apply for it using Tamilnadu E-sevai portal. Following Procedure is common for all TN districts such as Chennai, Coimbatore, Madurai, salem, erode, Trichy, vellore etc Before starting of this online services we need to get it only directly visiting Taluk office, But now you can just apply for it through the smartphone which you have in your hand and you can receive it within 5 to 10 days.
In order to Apply for any certificate in TN E sevai portal you need to get user id and CAN number, For getting user id you have to give some common details such as district, Taluk, phone number and email details then aadhar number, login id and password once after submitting this you will receive an OTP on your given mobile number. Then user id is activated and you are able to login to the Esevai portal using the Username and password.
Once you login to the Tamilnadu E Governance Agency choose Department wise > Revenue Department

In the revenue department page you will see community certificate link as the third option with prefix REV-101.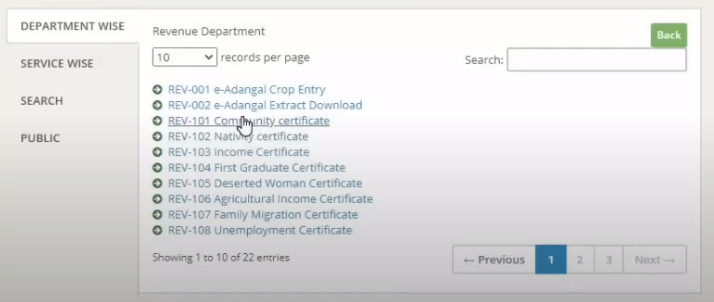 Clicking on it will forward to Instructions for applying community certificate. Which show you the following details
Fees for applying Community certificate: 60 rupees
Document required for applying: Photo, Address proof Document, community certificate of your father or mother or your brother or sister and self declaration of the applicant.
After reading the details click on next button, Now you will get the form and there first column is CAN number. You also see a button above it with "Register CAN" text just click on it.
CAN Number Registration for Community certificate Apply

In CAN registration form users need to give various details such as Aadhar number , personal details, current address details , contact details and Bank details as displays below.
After giving all the details your CAN number will be generated for the given aadhar number, you can enter the CAN number or mobile number used for CAN registration in the community certificate page and click on search, now your CAN details will be fetched from server and the details will be shown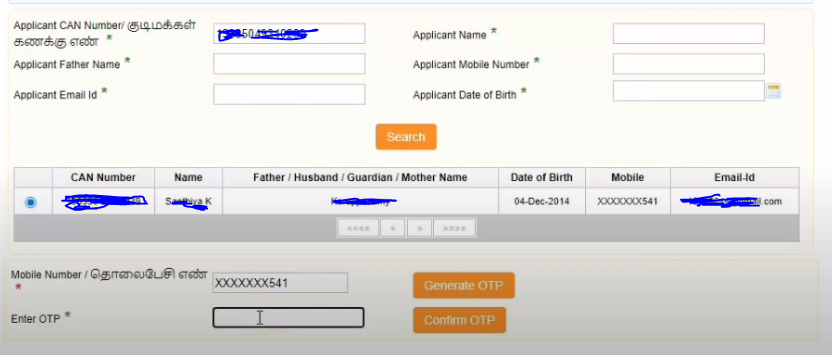 choose the CAN number button and click generate OTP , after verifying it next page will be loaded which shows the details obtained from CAN registration verify it and move to Form details section. There select the community you wish to apply and click submit.
Now you will be directed to documents upload section.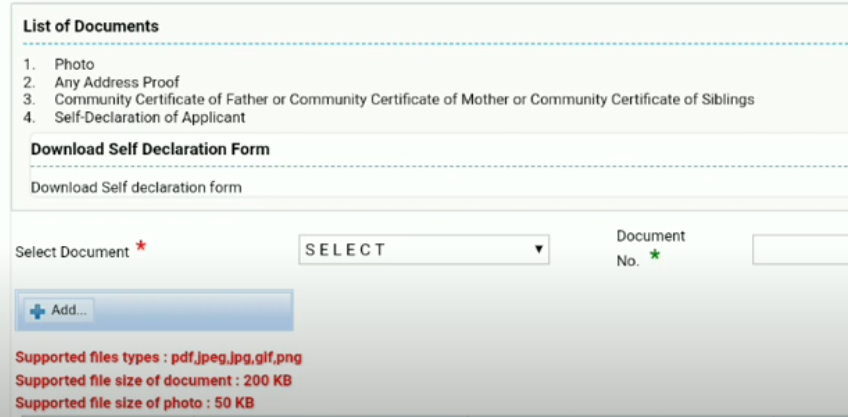 Instructions : Photos need to be uploaded within 50kb in png, jpeg, jpg and png file type and the documents file size should not be more than 200kb
Community certificate self declaration form:
Along with the other documents you have also need to upload signed self declaration form, Just download the self declaration form from the documents page and take a print out of it then Put your sign and again scan the document and upload it.
First upload your photo and give document number as 1, then upload address proof document and upload it number , then followed by community certificate and self declaration form.
Finally after the document upload completes you need to pay the community certificate applying fees 60rs , you can pay through credit, debit card or internet banking . After the successful payment you will receive the Application number , you can use for tracking the application status later.
Click here for Tamilnadu community certificate online link to apply in 2021