Delhi University is among the top universities in India and every year thousands of students study in different colleges under the university. Students who are studying under it took exams in the Oct, Nov and Dec months, Exam papers are regularly conducted to check the caliber of the students and results are the basis on which this evaluation is done. The Delhi university Nov Dec 2017 results for the recently conducted exams are expected to be released within a few weeks from now. 1st, 3rd ,5th sem Results of courses like B.A, B.Sc, MBA, MCA, B.tech, M.tech, B.com, M.Sc etc will be declared online and using their user id or roll numbers, students can access their marks.
Board name: Delhi University
Programmes: UG and PG courses
Link for checking the updates of board: click here
Evaluation scheme of semester papers for all courses is published in the official website, it is available in the below linked page.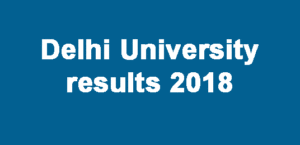 Delhi University is a well-known university and is of optimum standards. The university exams also thus comprise of questions that check the innovative ideas of a person and marks are given on this basis. Getting really good marks is thus a typical task. Out of many students who study under the university only a few are able to produce noticeable results.
This however does not imply that unfair marking has been done. If a student is not able to score as anticipated then he/she should not be demotivated and try to score well for the next semester exams. Delhi University always works towards student welfare to the best of its abilities. Thus there are no chances that marks have been deducted if the provided content is fine.
Candidates are learning courses in this university through two ways, one is by going colleges regularly and other by SOL (open learning system), For Both type of candidates announcements are issued individually hence they follow proper links to get correct details.
How to check 
Load the official Delhi university results announcement page by selecting the below url
There navigate to the right sidebar of the website which is named as "exams & results", there all the notification regarding evaluation and other things will be shown there.
There select appropriate link after the publication and select UG or PG then choose the course you are currently studying under the educational board.
Now give your roll number and hit enter for checking your marks.
Click here for checking UG and PG exam marks (Regular)

click here SOL results
The hall ticket is a important document and thus it is to be properly kept to view the Delhi university results nov dec 2017. It should be checked as soon as possible and only from the authentic website. The website of the University for Assistance is www.du.ac.in