IGNOU Date sheet 2021:
TEE Term End Examination is scheduled for coming academic year 2021. Official websites are right choice of platform to read out the IGNOU BDP date sheet for courses such as BA, B.com, BSc BCA, MBCA, MCA, MCOM, MA, BDP etc .1st year, 2nd year and 3rd year Students can download the Date sheet in accord to the course program they are studying for, We have the direct link of IGNOU BDP date sheet for February / March Examinations 2021 pdf file below. The pandemic crisis had drawn crucial impact in functioning educational institutions.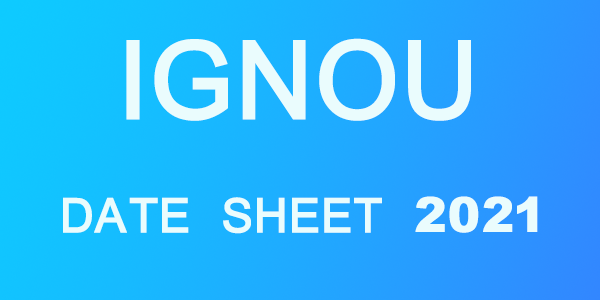 IGNOU is the Open University for distance education in UG, PG and Doctoral courses. The University was inaugurated in the year 1985 and affiliated to many degree and diploma programs. The University also aims at online and advanced certificate courses along with UG, PG programs. Every year, the University releases schedule for examination to be held in the academic year.  After pandemic crisis, educational institutions started functioning. IGNOU has released the time table for 2021 that is made available in the official websites. Aspirants are invited to visit the site to view the notifications and time table scheduled.
IGNOU feb 2021 timetable update:
Examinations for the academic year 2020 was declared postponed undated. Now the educational institutions are opened for classes. Hence date sheets for the term end examinations December 2020 has been released by IGNOU. The date sheet extends as per nature of course programs.
Practical exam courses and non-practical exam courses are yet to be held in variant dates. Separate date sheets are released by University Board of Examination.
The term end exams for December 2020 are known to commence at 8th February 2021. Individual date sheets are for the course programs are sorted out in the official site of IGNOU.
Click here for IGNOU BDP date sheet feb 2021
IGNOU date sheet June July 2021
Just like December 2020 term end exams, the practical exam for the previous term is also declared to occur in June July 2021. The theory exams for the UG Programs are expected to commence in June or july 2021.
Guidelines pertain to prevailing Covid-19 issues; The Universities framed strict precautionary measures while commencement of examination.
The prevailing Covid -19 across the country had driven negative drift among students. The safety and health benefits of students is considered much that forced the Universities to frame numerous safety instructions followed in the venue of exam hall.
The exam timing for both the sessions will be mentioned in the question paper the remains same throughout the entire examination schedule.
For all other BDP IGNOU Date sheet updates check student zone page from the official website.
Hall tickets are released by the Universities prior to the intimation to the students which the same can download from authenticated official portal. Visit University site for prior intimation.