RK nagar the most anticipated by election was scheduled on December 21, 2017. In the 2016 state legislative assembly election Former cm J.jeyalalitha has won in this constituency and ADMK became the ruling party of state but unfortunately CM was dead so By election is declared for this constituency.
Almost all major parties of the state are competing in the by election, other than this important persons like  TTV Dinakaran, Actor vishal are also filed nomination for this by election. 4th December is announced as the last date for receiving all nomination file from candidates, so All the major parties which are interested to participate in this election have announced their candidates and registered their nomination files.
Tamil Maanila Congress, DMDK and paatali makkal katchi has announced that they are not going to participate in this by election.
| | |
| --- | --- |
| Party | Candidates |
| DMK | Maruthu Ganesh |
| ADMK | Madhusuthanan |
| Independent | TTV Dinakaran |
| BJP | Karu Nagarajan |
| Independent | Actor Vishal |
| NTK | Kalaikottuthayam |
The list goes big lot of candidates from other new parties and independent candidates are also registered their nomination files and the complete list is available election commission of india website. We just have mentioned the important candidates here.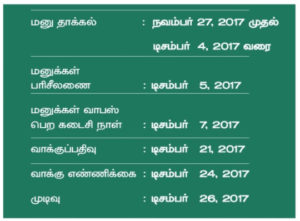 Election commission of India already announced by election notification for this constituency But due to the complaints about Money was distributed to the Voters it was cancelled.
RK Nagar BYpoll / election schedule of Events
Last Date for filing nomination: 4/12/2017
Election Date: 21/12/2017
Vote counting Date: 24/12/2017
Election process for Rk nagar will gets completed on : 26/12/2017
Usually in the by elections, party which is in the ruling wins easily But this time it may be little difficult for the ruling party to keep RK nagar constituency in their hands. Unlike previous elections this time situation not seems that competition is only between two parties because ADMK seems weaker after the death of ADMK former chief jeyalalitha. So situation not seems in favour of ADMK which earlier won in the same constituency continuously for 5 times, But everything is in the hands of the voters so it will come to know only on the RK nagar By election 2017 result date.
In this page we also give continuous update regarding the RK nagar by election result on the counting date right from the morning and will give details about which candidate is leading and their total votes. The updates are mainly extracted from official election commission of india website so users can also visit the official site to get complete data about Rk nagar byelection and other details.