Sabarimala devasthanam has introduced online booking system few years back, which is really a useful system for devotees. Devotees visiting the temple has been gradually increasing every year and during the makara vilakku and mandala pooja festival time crowd is uncontrollable for kerala police and as result of this devotees need to wait for long time in queue for darshan.
In order to manage this and the kerala police has started online ticket booking system for the ayyappa darshan, it receives much good reviews among the public. Devotees can book the ticket 6 to 8 weeks in advance for visiting the temple.
On the sabarimala online booking 2017 website (sabarimalaq.com) they have to select the date and time they wish to worship ayyappa as per the availability slots, need to upload their photo and to give address and proof. After the completion of online booking process coupon will be generated and users can take print out of it.
The coupon carries the devotees information and the Date & tie they are willing visit the temple , they need to bring this sheet with them while they are coming to sabarimala. In the special police counter located in pambai the coupons will be verified and they can worship the god in individual queue.
Steps for ticket booking
Visit the Sabarimalaq webste with the help of below given link and from the top select register or login which is given nearer to Hello guest.
If you are a new member to this website you are required to register for it just by giving your Email id / mobile number with a password. After the email confirmation your account will be verified and you can start sabarimala online darshan booking 2017 by logging into the website with same above given url.
After successful login provide the details of the devotees such as name, address, photo, photo id etc and save all the details.
Next process is to search the right date and time for visiting the temple once after confirming it you can go for the next step.
A calendar is displayed before you there select your convenient date which are free for booking, dates with green shade are available for booking. Select it and then choose the time slot and complete all the remaining fields finally take the print out of the coupon thats it you have completed the sabarimala virtual q reservation process.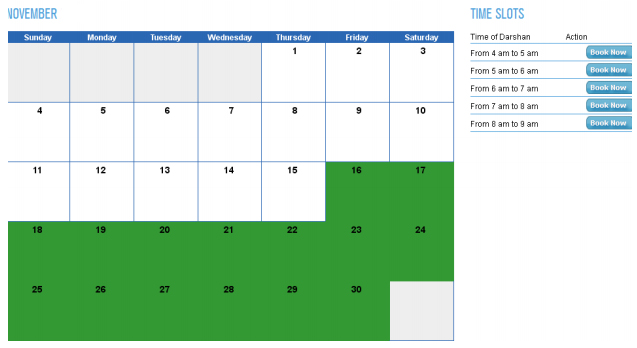 click here for sabarimala online q booking 2016 – 2017