DGE announced public exam time table during first week of January and as per it exams will be conducted from march 04th to april 1st. Half yearly exam is about to be conducted from January 11 to January 27. It will be followed by the practical exam, for this about 10 days are required for computer science, botany, physics, and chemistry and zoology subjects. After this before public exams three revision tests will be conducted. Due to this teachers asked the board to start the exam 10 days after the previous year schedules.
News are leaking out that tamilnadu 12th practical exam time table 2016 will be scheduled between February 5 to 25. Dates will be decided by primary educational officers and notice is sent to all officials by the director of government exams vasundhara devi. All the schools need to complete the practical exams within the schedules and marks are to be submitted within 26th of February.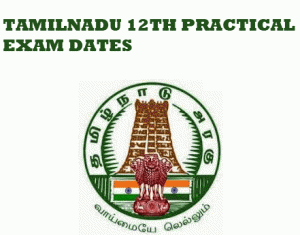 Once after the completion of these exams students can concentrate on theory subjects, 12th marks are very important for every students because it will decide your career fields in most, if you have good percentage you are able to get seat in reputed institution.
12th practical dates for specific subjects are decided as per the strength of students in the school for the specific stream. It will be mentioned in the notice boards and also it will informed by the faculties.
Refer previous year question papers and the tests which were conducted in the academic, study the whole syllabus without leaving any topic.
Practical exam 2016 time table – 05/02/2016 to 25/02/2016
Click here for public exam time table
We also published the theory dates in the previously mentioned link, which is represented in image format for all the streams so by clicking it will enlarge it size and display in clear quality.
By choosing save from right click option visitors can save the picture on your device memory and which helps to check it whenever it is needed. First prepare all the subjects which are looking difficult to you, because if you study strange questions in last minutes then it may collapse you. Try to study difficult questions in morning time because during this period your mind is fresh and your understanding capability is high. Schedule your study time and prepare as per it then only you are able to hit success easily.