Details regarding the TN special supplementary exams has not been released by the govt examination director about how students can apply for it and the schedules etc The result for the exam is declared on 16/05/2018. supplementary exam is for who failed in recently conducted 12th exam and who failed to attend it due to any reasons.  Tamilnadu 12th supplementary time table 2018 will be schedule in  July month , the exams are about to begin after getting application form, issuing hall ticket in the mentioned time Details regarding this will also be released on all the newspapers and medias. check supplementary timetable from below
How to Apply for the Exam?
Students need to register for the exam if they wish to write it, they cannot able to do it individually on their own in online, for this they have to go to the school where they study or the exam center where they took the public exam and they can do it with the help of staffs in these centers.
Online Application Dates: 07/06/2018 – 11/06/2018
It is not possible to apply through private browsing centers and home computers so you are asked to go for the school or your exam center for completing this process. Remember above said dates and do it within the schedule else the application window will be closed.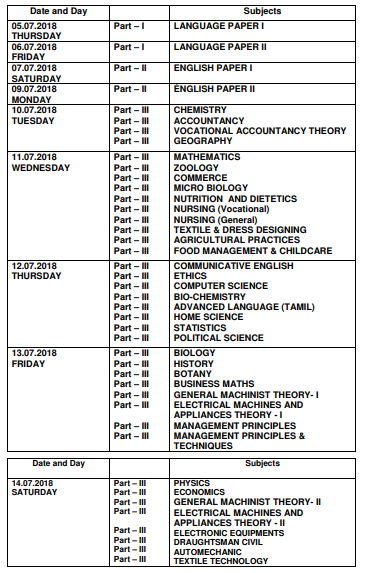 How to Pay exam fees?
Fees per subject – 50Rs + (Other Fees Rs 35 /-) + Online registration fees 50rs
Fees should be paid only as cash and any other formats will not be accepted.
Supplementary exam Hall ticket Distribution
As like the main public exam Hall ticket is mandatory for taking it, All those who register for the exam will get TN 12th supplementary exam hall ticket 2018 – June / July , Publication dates of hall ticket and link to download it will be announced later , we also update the details regarding it after DGE announce it.
Permission granted for taking the exam is provisional and exam results will be declared only after checking students eligibility and other details.
TN 12th supplementary time table 2018 is announced and its screenshot is published below , exam will be conducted from 10.00 a.m to 1.15 P.m in which first 10 minutes is given for reading the question paper completely , next 5 min for verification of particulars and final 3 hours for taking the exam similarly like March Month exam.