If you exactly knew when you will get a holiday or holidays, then definitely you might want to make some advance plans for vacation and holiday tour. There is no one who would not want to utilize that opportunity.
And here the Tamil Nadu Government has given that chance to all the people, government employees as well as normal people, by publishing out the Tamil Nadu Government Holidays 2018 pdf. The government is showcasing the holidays in advance to get some positive vibe from the employees too.
Every year Tamilnadu government release the holiday list officially, it will be given in GO and copy of it will be uploaded in the websites and also informed to the public through newspapers and medias.
For this year holiday list is already out and which carry details of all Hindu, Muslim, Christian festival leaves and other Govt holidays 2018 such as Independence day, republic day etc.
Each and every schools and colleges in tamilnadu need to follow the schedule and give leave to students. So almost each holiday mentioned in the list is followed by the institutions.
We are giving public holidays 2018 list here in two formats one in picture format and other one in pdf format which is the Government order file issued by the public department of the state. You can save the file which one is appropriate for you.
Some days leave may come continuously for 2 or 3 days for example pongal , during that time all banks are closed so only ATM will work But due to leave for staffs they don't fill money in most ATMs during those days so with the help of this holiday file you can arrange appropriate plans for it.
But some exception might be followed for banking organisation. Every month's 2nd and 4th Saturday will be holiday for bank employees and banks as notified by the All India Bank Employees Association (AIBEA).
And for the schools and colleges, there might be some difference as their summer holidays and examination vacation are decided by the respective institutions.
[Apart from it, all the remaining holidays can be seen from the list provided below.]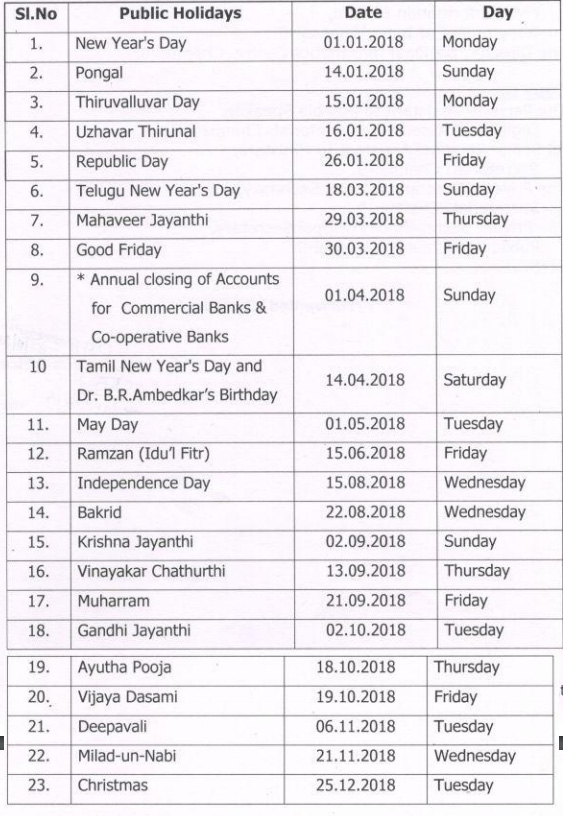 Click here for Public holidays pdf 2018 file issued by TN Govt.
Just click above link , the pdf file will be opened on your screen then just save them in your device, or visit our site for checking the list anytime.