Tamilnadu chief minister Dr. J.Jayalalitha has passed away on 05/12/2016 11.30, she was in continues treatment in Apollo hospital since from September 22, since from the day she was admitted to the hospital there were lot of hoax revolved around through social medias but unfortunately the hoax came true and the iron lady of tamilnadu no more now.
She was suffered by cardiac arrest on 04/12/2016 then she was admitted for angio surgery and transferred to intensive care unit of the hospital, As Heart and lungs were failed to work normal she was under ECMO support. But unfortunately she didn't recovered and her health didn't accepted the treatment so she was passed away on December 05.
Final tribute to the chief minister Dr. J.Jayalalitha (1948 to 2016)
She is kept at rajaji hall for final tribute. Political leaders, actors, public peoples and all other peoples are coming to Rajaji hall for to give final tribute to the Dr. j. Jayalalitha. Indian prime minister Narendra Modi, Indian president Pranab Mukherjee, Rahul Gandhi – Indian national congress vice president are coming for the funeral of former chief minister of tamilnadu which is going to be held at Chennai marina beach.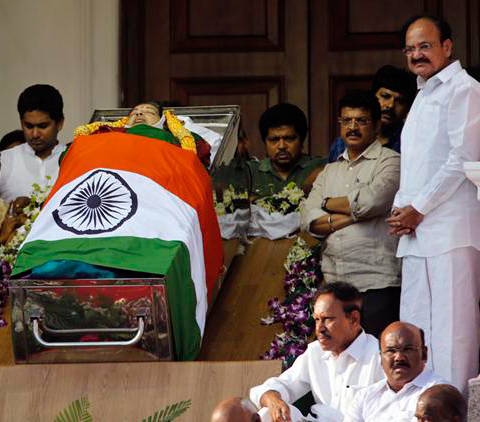 About the funeral procedures
Funeral procedures of Dr. J.Jayalalitha will be done at marina beach next to M.G.R at evening 4.30 p.m and preparations are going on for this. As the ADMK followers, public peoples are gathering in more numbers in Chennai all the important roads of the city were stunned.
Dr. J. Jayalalitha funeral time / location – 4.30 p.m at marina beach
Some popular schemes of Dr. J. Jayalalitha includes
Formation Women self-help groups
Gold for marriage
Women police station for solving problems faced by womens
Free components for school students such as school books laptop, cycles, slippers, etc
Rice, fans, mixer grinder, grinder at free of cost.
Amma salt, Amma medicine, Amma hotel … etc
The list goes on, among which above schemes are very popular among the tamilnadu peoples. She is one of the never forgotten leader of tamilnadu though her soul went out of her body it lives forever in tamil peoples heart.