LLR stands for Learner's License Rule. In order to be authorized by the government that he/she can drive, a person needs to have a driving license. Now before the person gets the permanent license, he needs to have the LLR certificate which is issued by the transport department. A person is immediately provided with a temporary license or learner's license at first and the permanent license after some time. The learner's license is valid up to a period of six months, in this page we are giving the clear details about how to get tamilnadu online llr application form for getting driving license for two wheelers and four wheelers and other type vehicles.
The Tamil Nadu government has put up the application for the LLR online from where appointment for the temporary as well as the permanent license is given. This is an excellent feature provided to the common mass. Due to this, hours of travel to the RTO office and queuing up can be avoided.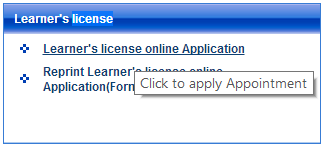 Many other rules regarding driving have been introduced by the government and the transport department. For obtaining the driving license, a person must be atleast 18 years of age. However, license for a non gear vehicle can be attained at the age of 16 while 20 is the age for getting a driving license for transport vehicles. The government has also made strict policies and punishments regarding drink and drive. Driving while drunk is a very fatal act, both for oneself as well as others and should be totally suppressed.
For getting the learner's license some documents are required for identity and health verification. Filled form, age and address proof, photos, medical certificate, etc are the required documents. The entire list is available at the official website. A person getting a newly made license should learn all the traffic rules and strictly abide by them. While driving one should keep the security of those on foot as well as other vehicles prior to themselves. It should be ensured that the learner's license is not used after six months since the date it has been issued and to get a permanent driving license till then. Follow the below steps for to access tamilnadu llr application form online at tnsta.gov.in official website.
How to apply?
The form for learner's license can be obtained at transport.tn.nic.in so first get into the link by clicking on the below url.
Then select "Online Filing of Application for Learner's License"
Now a form will appear on your screen, fill all the blank fields with correct details, select the proof documents which you are going to submit, select the date on which you have appointment and finally click the submit.
Take print out of the document and and visit your district RTO office on the date you have selected with appropriate fees and the documents you selected in the application form.
Click here for getting application form.