Pongal festival is coming nearer in tamilnadu, it is a traditional festival for the Tamil peoples, every year government announce pongal bonus for the government employers, this year also they have released a G.O regarding this on 11/01/2017 which carries details about how much amount will be issued to each category employer, as per the information provided in the notice details are listed below.  As per the tamilnadu government pongal Bonus GO 2017 they are going to offer bonus from 500 rs to 3000 rs depending upon the service they are working and the salary amount they are receiving.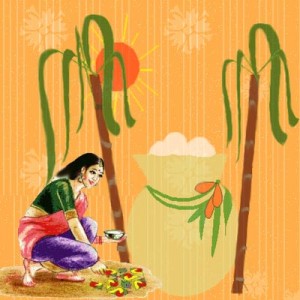 All the candidates who are getting pension amount in tamilnadu will get pongal gift 500rs, it includes all categories. But in case a candidate get retired on the date of announcement this will not applicable to him.
As per the details mentioned in adhoc bonus notice, employers are working in the group c and group d services and teachers will get 3000rs
.A and B category employers, teachers, anganwadi worker, rural assists, contract employees, who are working in daily wages works, who got permanent jobs after working daily wages works and some other categories which are listed in G.O will get 1000rs.
Candidates who are working in government aided institutions, local bodies, UGC, AICTE, IARI will get 1000rs
For offering pongal bonus government has to spend 326 crore 85 lakhs, as per the official information it is going to be benefit for nearly 20 lakh candidates in the state, which includes 14 lakh government employers and teachers and 6 lakh pensioners. All employers who are going to receive pongal bonus 2017 welcomed the announcement.
We just listed summary order of the order going through the official announcement will help you to know the complete details about it. This has been uploaded online in the tamilnadu government official website tn.gov.in we have linked the document in this page for your reference.
At first this scheme was introduced by former chief minister Dr.MGR, before that only who worked in industries received the bonus. Since from that each year it is followed.
Click here for reading Tamilnadu pongal bonus government order 2017 regarding
Files are uploaded by the officials as pdf documents so be sure that you have pdf reader installed on your device for checking the details of the files, else it may not open. Advance thai pongal wishes for all.