TNAU stands for tamilnadu agri university for which admission for UG and PG courses will be started very soon, hence application for interested candidates is available online. This year board has created a special portal for uploading TNAU online application hence you don't need to go anywhere this time for purchasing the B.Sc, B.tech application and paying exam fees. We are giving all necessary details for all those who are interested in getting admission for agri programmes regarding the registration form.
Note: Board has mentioned that it is compulsory of registering online application for getting seats in TNAU and its affiliate colleges who wish to join either by counselling or by directly joining through management seats.
University offers various courses in B.tech, B.Sc and B.S, you can check the available streams with the help of below screen shot.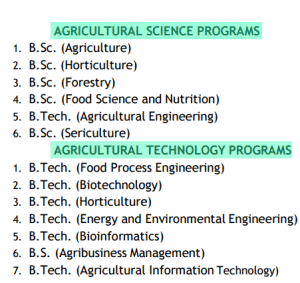 Important: It is highly recommended to download admission brochure first which is for error free registration and getting all details courses fees and all other required informations, download it from here.
Important Dates
TNAU online application 2016 dates: 12/05/2016 to 11/06/2016
Rank list will be announced for registered candidates on 20/06/2016
How to apply?
Visit the given link directly by clicking on it or load tnauonline.in from any standard web browser.
Now you are required to select admission link for UG / PG, as you are going to apply courses such as B.Sc or B.tech you need to select UG.
Basic instruction about how to complete TNAU application 2016 is displayed for you and under it button for starting is available before clicking you have to confirm that you read the instruction by clicking on the check box.
Just after proceeding it you will get the form you are looking for, you need to complete following four steps for completing the registration.
Personal details

Address & Photo details

Education Details

Submitting Reference Number & Application Form
Once after the completion of stage 1 you will get login id and password details which is used for further logging in and completing the other steps.
Then complete payment using online methods which is 300rs for SC / ST / SCA category candidates and for general candidates it is 600rs.
After the fees payment you will get the reference through by email id and mobile number hence TNAU recommends only input active email / phone no else you may miss , submitting the ref number is mandatory in final step of registration.
After completing all above mentioned steps submit the application form to server and your eligibility and given details are verified by the admission team, incase if your eligibility is correct rank for you will be published and will be called for counselling as per the schedule.