Tamilnadu ullatchi therthal 2016 (Local body election) dates were announced in the state, as per the news it is going to be held as two phases on dates October 17 and 19. Votes registered on these two dates will be counted on October 21st.
Local body positions terms are going to expire on October 25th, hence election has been arranged in the state, and there are 12 Corporations, 124 municipalities, 31 district Panchayats, 385 Panchayat unions, 528 town Panchayats and 12,524 village Panchayats in Tamilnadu. For the ward counsellors and village panchayat leaders positions election will be held, for the other vacancies present in local bodies persons will be selected indirectly. For these positions candidates will be selected on November 2.
State Election commissioner seetharaman conducts meetings with officials regarding the upcoming election. He released the notification of Ullatchi therthal dates oct 2016 on 25/09/2016 in which announced the following schedule to the medias.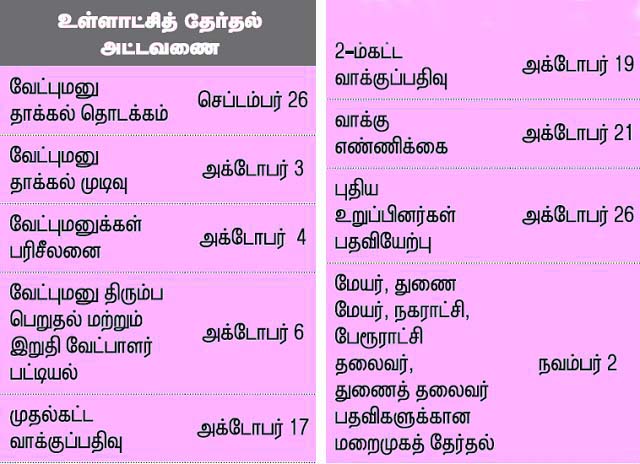 Formats of local body and state elections are different, for inspecting the election process IAS officer for every district has been assigned, there will be about 6.50 lakh officers engage in lection duties. For the Booths which requires protection polling will be recorded as Video.
Since from date of announcement of election, rules of election should be followed by the political parties. There are 5.8 crore voters present in the state in which 2 crore 88 lakh Male candidates and 2 crore 92 lakh female candidates. Those who want to know the live updates about tamilnadu local body elections 2016 can follow this site, we will give all updates from notification to counting.
All who wish to compete in this election for above mentioned posts can do the nomination on or before October 3. On the next day of last date all the applications will be reviewed by the commission. The candidates who wins in the election will be appointed for the posts October 26 on this day first meeting will be held after the completion of election.
All the parties were already started working for the local body election and there are lot of independent candidates are also compete in the election, the results are in the hands of voters which will be revealed on 21/10/2016.