State government holiday list for the year 2017 has been announced by the govt, this list is applicable for all the schools and colleges, Banks and employers who are working in govt departments. tamilnadu government 2017 holidays list will help you to plan for various personal functions, by knowing Christmas, ramzan,  diwali and pongal dates you can preplan your travel time incase if you are working in companies outer from your home town.
As per the list there are 21 government holidays this years, but this year some occasions like English new year, thiruvalluvar thinam and Mahaveer jayanti are coming on Sunday. january month has more number of holidays which has 5 days among them 2 are in sundays.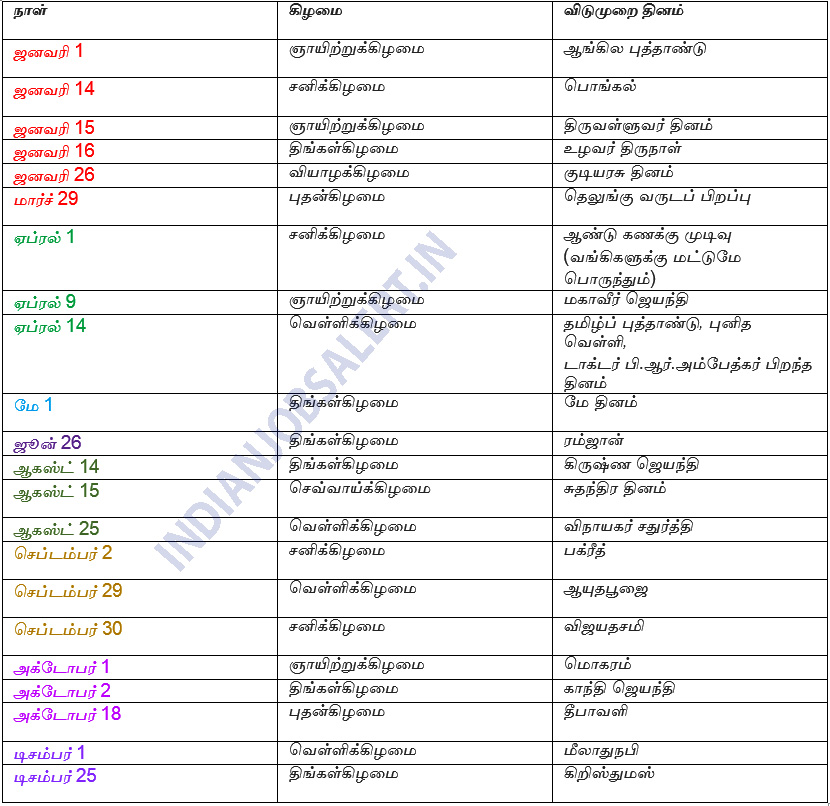 We have given the list as image mainly because by saving the file on your local disk or mobile you can verify it whenever you need it, it don't need internet to check on online websites.
All the popular universities in tamilnadu like Anna university, Bharathiar university, Annamalai university, Bharathidasan university, etc follow the same schedule so the list is common for all the students studying in the affiliated colleges of above listed universities.
In order to see the image more clearly click on it which will make the picture to load at good quality, so that you can find the tamilnadu government holidays list 2017 clearly.
You can download it as pdf, we also hosted the file in pdf format as lot of users searching in this format too, for all tamilnadu working professionals and the students this file will help a lot.
Usually government will issue this details before the starting of every year and it copy of it is uploaded online through the website tn.gov.in.
click here to download holiday schedule as pdf
Select the above link now your device asks permission to save a file which is about to download from indianjobsalert.in. Accept it and choose the target folder, that's it the procedure to save the file for further reference of list offline.
This site offers all kind of education and career news to visitors at right time, share this url with your friends in the social media websites so that it will be helpful for your friends, by pressing CTRL + D you can add our site to your browser bookmarks if you are viewing this page from desktop, We hope the list we published here is helpful for you to arrange personal events, tours, travels etc