TNDTE exam results for april 2016 were published by the board. This year board has announced the marks little bit earlier when comparing with last semester declaration dates. board will announce it around the date they mentioned in the academic calendar, this time as per the academic calendar board mentioned that it will revealed around 30/05/2016 it has been announced almost as per the schedule but little earlier, this is due to they have completed paper valuation on time, board has reduced the waiting time of students and they are now very happy for seeing it earlier but on result declaration day students cant able to check their marks as the server didn't opens, also the most candidates got positive results as they have expected so they are happy with the marks.
We hope all students got marks as they expected, incase if you feel you write the exams well, but the results were not as like you calculated then it is highly recommended to register for getting Xerox copy of your answer sheet so that you can verify it and if you find any errors in valuation you can go a step further to reevaluate it, so that you can boost your marks.
This post will give you details about how to get tndte april 2016 revaluation application and what is the procedure for applying. It can't be applied by person so every candidates need to register for getting photocopy of answer sheets through their faculties.
You can verify the tndte results updates from our servers by clicking here
Last Date for applying for getting scanned copy of answer sheets: 02/06/2016
Dates for applying Revaluation: 10/06/2016
Fees details:
Fees to pay for applying revaluation: 400rs per paper
Fees to pay for getting answer sheet photocopy: 100rs per paper
Time schedule issued by TNDTE for this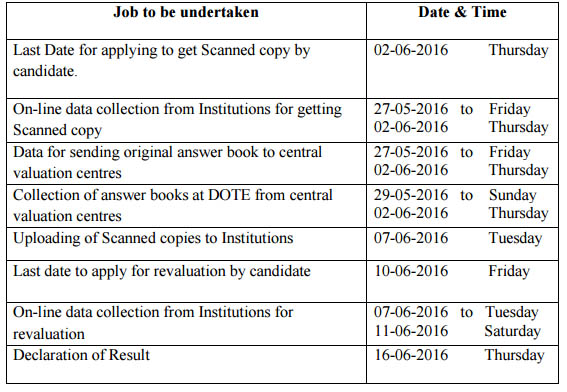 Result Date:
For those applied for answer sheet Xerox copy, the document will be uploaded on 07/06/2016.
Revaluation results will be declared on 16/06/2016.
Click here for downloading tndte revaluation application form april 2016
Check all the news published on indianjobsalert.in about the tndte
Download the form and fill it with correct details and submit it your institution before above mentioned last dates by paying the correct fees, form is also available in the institution you may obtain it from there also. After collecting all your applications faculties of your institution will apply for you through institution online portals, students need to complete all the procedures within scheduled time because forms will be discontinued in online after the deadline dates.