TNEA is the popular admission procedure in tamilnadu through which students who are interested in joining engineering courses after completing 12th standard will get colleges as per their merit list. Already counselling schedule for the applicants were intimated online and as per it the process will started will be started from june 25, on this date admission is allocated only for differently abled candidates. Anna university conducts this counselling for about 1,92,009 B.E and B.tech seats present in 524 colleges.
Important for counselling students
Differently abled candidates counselling schedule: 25/06/2016
General candidates counselling schedule (cut off mark wise): 27/06/2016 to 21/07/2016
Common Schedule is given above if you want to know the specific date and time for your cut off then you are asked to download the complete time table given at the end of the article.
Rank list for the students was issued on june 22nd and details about it are available online at anna university website.  In the top 10 rank holders list boys and girls numbers are 7 and 3 respectively.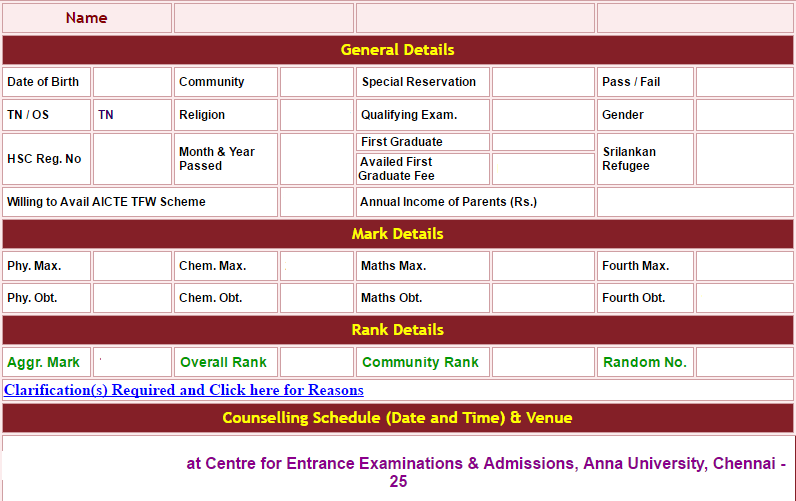 This post is about the TNEA call letter 2016 along with details about where it is available online and the what are the details necessary for downloading it. Call letter was dispatched to everyone who are going to attend counselling through post, incase it is delayed and not received it yet then you can use this alternative option.
How to download?
Enter your application number and click enter
Within fraction of seconds your documents will be ready for download, it show your basic, cut off marks details along with counselling schedule and venue.
Download TNEA call letter
Instructions for the students
Students are asked to come to venue atleast 2 hours prior to the time scheduled for them, incase you are out of Chennai prepare travelling plan as per it.
In case there is any issue in your submitted details it will show you as "clarification required" by clicking on it you can find the reason. During the counselling you need to clarify it for avoiding issues.
It is necessary to show your original certificates during counselling list of documents that are need to be shown are mentioned in your call letter, don't forget to carry these documents.
Instead of selecting a college without knowing about it do a little bit research and find what are the colleges are available for your cut off mark, among them choose some best colleges so that you can easily select them during single window counselling.