The academic calendar for the odd semester of the Visvesvaraya Technological has been released by the university which is made available here for all students. This will be the working schedule for the large number of U.G and P.G courses under the university like B.Tech, B.Arch, M.Tech, BCA, MCA, etc. This semester will commence from August 2016 and will end in the month of January, 2017.
The VTU academic calendar 2016 contains the details regarding the tentative dates according to which the academic activities will be conducted in the university. These include conduction of the exams for different courses along with the practical dates. Those who are supposed to submit the projects during this semester should be aware of the last date for submission of the project. This is also given on the academic calendar.
VTU Odd sem Important dates – screen shot
Screen shot says the details of commencement of theory and practical exams along with attendance closing date, project report submission dates, etc for all the semester students.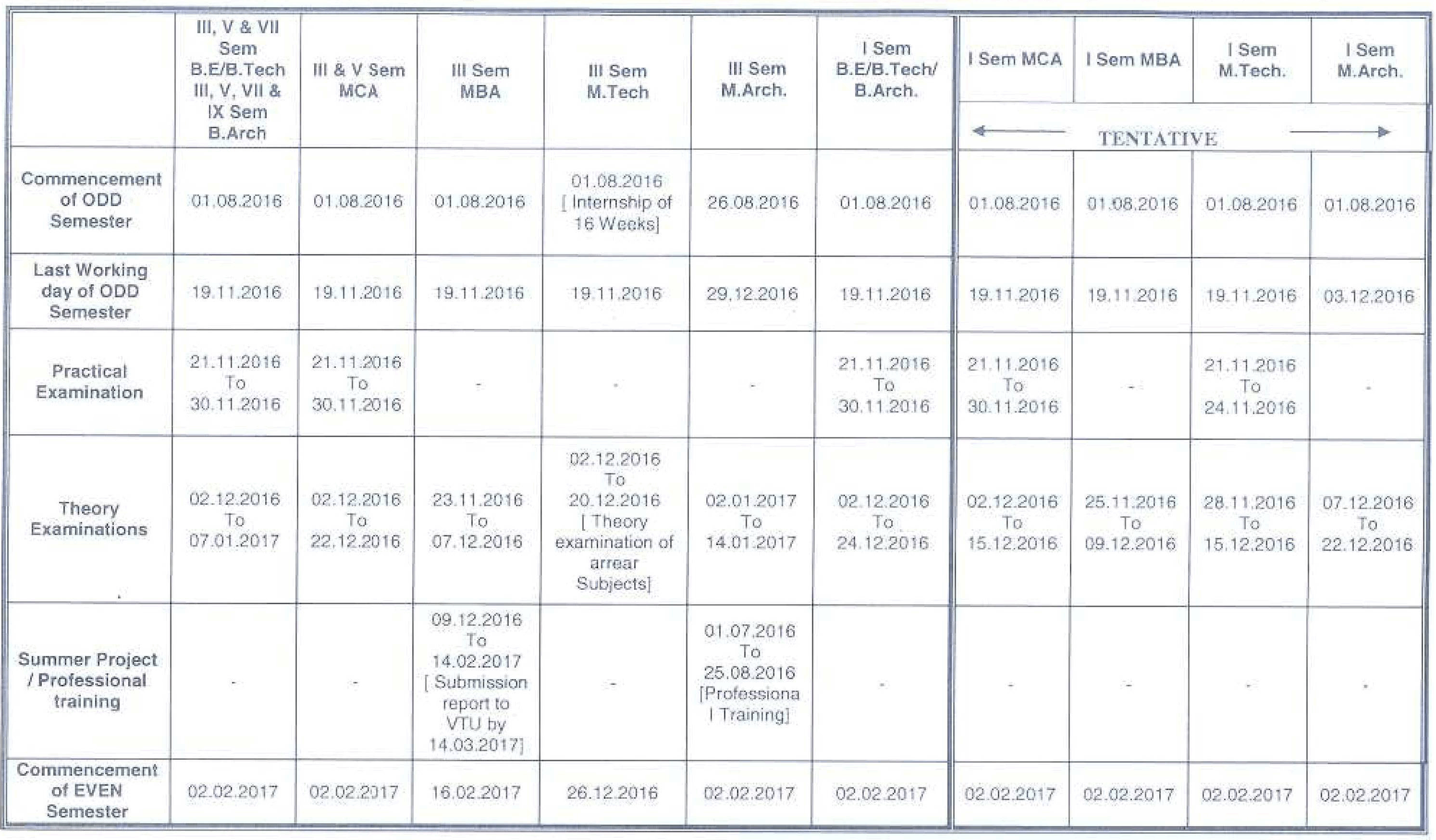 To make the best use of this document, first the document should be checked thoroughly and carefully. The dates for other courses should not be confused with one's own courses. This is a very common mistake many students make, which makes them suffer during exam time. Any such occurrence is the sole responsibility of the individual himself/herself. Secondly, once the dates have been checked they should be marked and the preparations of the semester should be started. The academic calendar has been issued in time and right now students have a lot of time to make this semester a remarkable one. If time is utilized right now, it will not put any additional burden on the students during exam time and they can appear for the paper with a calm composure.
Download Calendar as pdf file
Another point worth noticing is that, the administration has prepared this VTU academic calendar Odd semester very carefully, considering various facts. This shall be followed as far as possible and the university will not entertain any student complaining against the decided curriculum.
Though we have given all vtu important dates of December 2016 / January 2017 semester as screenshot , for all those who want to download the entire file as pdf the following document is given.
Click here for downloading VTU Academic calendar 2016 Odd sem
To get the document the official website should be browsed carefully. Once the document is downloaded, a hard copy can be taken. Other details of this semester like the syllabus, can also be checked on the official website, where detailed information about every aspect is given . For any problems, students should contact the university.