This article is about the 2016 year Budget In order to find the complete details regarding 2017- 18 year budget kindly follow this link > click here
Tamilnadu budget was announced today by the state finance minister O. Panneer selvam, In which he releases the government plan of allocating funds to various departments and the schemes, in this revised budget for the year 2016-17 no new taxes were introduced.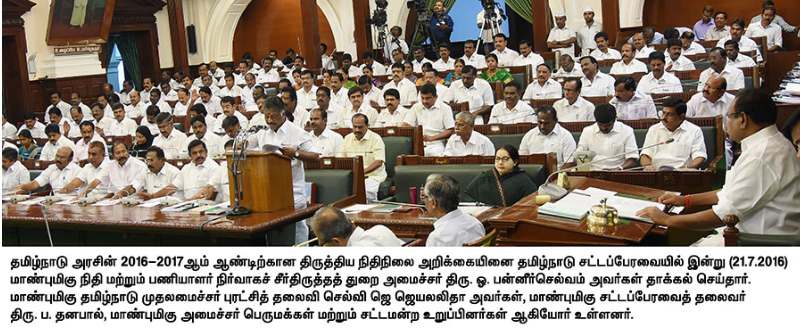 This is the first budget of newly formed government after the election hence it had much expectation, we have given the download link of the file given in tamil language.
Important Details
Estimation of the Revised budget – 1,48,175.09 crore

State government debt – 2.52 lakh crores

Tamilnadu's revenue deficit – 15,854.47 crores

Tamilnadu's fiscal deficit – 40,533.84 Crores
Highlights of the announcement
New Dairy related products production center in Madurai
24,130 crores for school education department
68,211.50 crores for welfare and subsidiary schemes of government
13,856 crores for Electrical department
6,102.95 and 230.7 crores for police and fire service department developments.
For Industrial sector growth 2,104.49 crores
9, 073crores for people welfare department
1,680.73 crores for agricultural department developments
928 crores for CM health insurance scheme
1,295.08 crores for transport department
For Electricity subsidy schemes 9007 crores will be allocated
For the welfare of Sri Lankan Tamil refugees 105.97 crores allocated
Announcements
municipal elections will be conducted in the October month
In the coming year 5.35 lakh candidates will be issued for students
Free Home Land Patta will be issued for 3.50 candidates
For the welfare of physically challenged candidates 74 crores will be allocated
2000 new buses at 125 crores
Lok ayuktha scheme will be set up
Click here to download the complete Tamilnadu Budget manual pdf  (available soon)

Click here to download All highlights + announcement for various departments
We have just given the highlights of Tamilnadu budget 2016-17, for complete information kindly download the budget file issued at tn.gov.in, it will take some time for updating official pdf file online hence we will upload the budget document prepared from medias. Now party leaders and others are expressing their views about the published budget and M.K stalin, Leader of Opposition in Tamil Nadu Legislative Assembly said there is no important announcement in the budget and all are usual.
Usually budget will be announced during the march month, but this year it became impossible due to the state election and due to this Provisional budget was filed on February 16th. After the the assembly election on may 16, new government was formed under the leadership of Dr.j.jayalalitha, after first assembly session was started with governor's speech.
We hope the given details will be helpful for you, for getting news like this subscribe to our portal through email or by following through social media sites.